SEO - Search Engine Optimization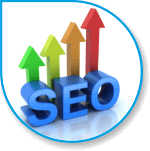 SEO - search engine optimization is a toolkit with the goal of enhancing and improving a website's positioning on natural (organic) results pages on search engines. (fonte)
The techniques used in SEO are designed to leverage your goals on your website by improving the number and position of your organic search results for a wide variety of keywords relevant to your website content.
SEO strategies can improve both the number of visits and the quality of visitors, where quality means that visitors complete the action expected by the website owner (eg buy, sign, learn something).
Search Engine Optimization is typically offered as a standalone professional service, or as part of a Webmarketing project, and can be very effective when embedded in the early development of a website design.
In terms of competition, a keyword search term with high volume of results hinders positioning through programming for organic search, and may require action of paid ads or sponsored links; depending on the number of results the cost of an internet marketing strategy can be quite expressive.
A good placement in organic search results can provide the same targeted traffic and have a potentially lower cost.
Website owners should choose to optimize their sites for organic search if the cost of optimization is less than the cost of paid advertising.
Not all sites have identical goals for search engine optimization. Some want to reach all kinds of network traffic and can be optimized to increase the search for common phrases.
Search Engine Optimization can be very effective when used as part of a Marketing strategy.